Within hours of StreetLeague.com publishing a piece about whether Nyjah could sweep the entire SLS season, Nyjah took a hard fall.
We asked, "Can anything stop him?" According to his manager/mom, a set of stairs provided a blunt answer a couple of days ago. (Curiously, he posted a pic on Instagram from a dirtbike adventure a couple of days ago… Hmm.)  While you can't go as big as Nyjah does without paying the price every now and then, the SLS World Tour rankings leader claims he'll bounce back in time for the next stop in Portland in a couple of weeks.
Now, with most dominant competitor out, $100,000 up for grabs and a wide open field, Munich could prove the most exciting SLS stop of the year. Let's see who steps up. Chris Cole, Luan Oliveira and Paul Rodriguez have been oh-so-close this year. Or will it be a dark horse? Scroll down and place your votes in our latest poll.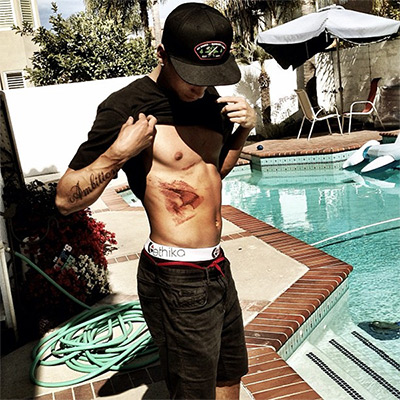 Via XGames.com:
Skateboarder Nyjah Huston's bid to sweep this year's Street League was cut short when he was forced to withdraw from X Games Munich because of heavy bruising on his ribs after he fell down stairs while skateboarding on Saturday, ESPN announced Tuesday.

Huston's mother, Kelle Huston, told ESPN that Nyjah bruised and scraped the right side of his torso from the fall, but X-rays came back negative. Barring further injury, Huston should be ready to compete in the next Street League competition next month in Portland, Ore. Kelle Huston said Nyjah could not jump or ollie and therefore would not be able to compete this weekend. Huston also posted an Instagram photo of his bruised upper body.

Huston won the first three 2013 Street League competitions, taking gold at X Games Foz do Iguaçu, then winning his second gold of the year at X Games Barcelona, and finally claiming his third-straight victory at the Street League stop in Kansas City, Mo., this month. His recent dominance in Street League, plus winning the overall title in 2010 and 2012, made him the heavy gold-medal favorite in Munich.